Dandy Bones is a Legendary Necro-Saber mutant, which can be obtained through the Mutants Slots. Its Gold version is purchasable in the Shop for 1,900

.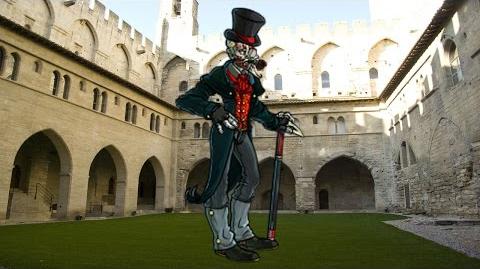 Appearance
Dandy Bones, like his bio implied, is a zombified gentleman with several flesh tears on his face, stitches on his arms, and has a white eye and a missing left eye. He wears a brown shirt with several holes, tattered green pants with patches on the knees, straps over his shoulders, a bowler hat with a red line around it, and shoes with an opening revealing his toes. He's carrying a red and black walking stick that gains a skull on top in elite versions.
Stats
Attack: Cataclysmal
Life: Tank
Speed: Slow
Attacks

Groomed-Ungroomed

Cane Grip
Biography
One can remain elegant, even after being turned into a zombie. This refined dandy was once a perfect gentleman, but after being exposed to necrotic DNA, his body began to rot away... Never mind! This fellow proves that even with a face that looks like a burnt cookie, you can still put on an utterly classy show.
Trivia
His name could be based on Joseph Don "Dandy Don" Meredith.
His Bronze Version is an obvious nob to Joker, Batman's arch nemesis.
His Gold and Platinum versions are the only versions that come with the bird skull on his walking stick as shown in his larvae.
His Gold and Platinum version resembles Angus Bumby or the Dollmaker from the video game Alice: Madness Returns.
Gallery