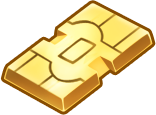 Overview
Gold is a currency in Mutants: Genetic Gladiators which allows:
Buying most mutants (except basic mutants buyable with or any offers with $)
Buying Supplies
Buying
Buying of some buildings
Accelerating following processes:

Breeding
Incubation
Campaign passes gauge
Mutant health

Mutosterone level of a mutant
Level-up of a mutant
Upgrade of Evolution Center, Incubator or Breeding Center
Buying Map extension (optionally with )
Costs
Mutosterone Level per 1
Campaign Passes gauge is 1 per Campaign pass
Mutant price dependent on mutant quality
How to obtain
Aside from buying

from the shop (see the next section), there are the following ways to obtain

:
As a prize from Mutants Slots
Levelling up your Fame level. The Gold reward is half the Fame level achieved, rounded up, but no more than 50.
Doing the Dailies (the highest daily reward contains 10). You will have to spend a minimum of 1 for the "accelerate" part of the Daily, so you may gain a maximum of 9 per day this way.
Completing sections of the Bingo cards that have Gold for prizes.
Purchasing from the Shop
Gold can usually be purchased from the store in the following increments, in US Dollars:
| Title | Gold | Cost |
| --- | --- | --- |
| Pocket Money | 150 | $1.99 |
| Gold-Bearing Collection | 480 | $4.99 |
| Treasure Chest | 1050 | $9.99 |
| Safe | 2800 | $19.99 |
| Fortune | 5900 | $49.99 |
| National Treasure | 12,000 | $99.99 |
These amounts do not take into account the frequent Gold Sales that are run by Kobojo, so you may find that the amount of Gold currently available for a given price point is higher, or that the price point for a given amount of Gold has been lowered. This also does not take into account special packages that frequently appear in the store that may include Gold and other items in a bundle.