Kaiju Kitty is a breedable Zoomorph-Zoomorph mutant that looks like a kitten with a golden skull shaped trinket on its collar.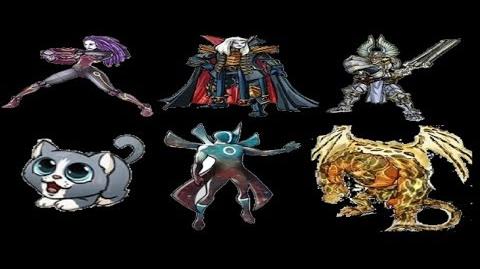 Appearance
The Kaiju Kitty is a living example of the phrase "Don't judge a book by its cover". It looks like an adorable, seemingly defenseless little kitten... but once ordered to attack by the Psy-Captain, the Kaiju Kitty quickly shows its true colors. Take the "Biting the Hand" attack: after running up to the target, the Kaiju Kitty opens up its inhumanly wide monster jaw and takes a bite out of the poor victim mutant. Like the golden skull collar isn't any dead giveaway of its true nature...
Stats
Attack: Medium
Life: Average
Speed: Fast
Attacks

Biting the Hand

Cuddly Invasion
Biography
Oh what a cutie pie, you could just drown in those eyes! But mind out kitties got claws and a huge gaping in maw. She's a family favorite and what's more adorable than a little bitty kitty!
Trivia
It is the first mutant that is based on a real life animal: the cat.

Also the "larva" form looks like it's just a cat stuffed into the tube.

Its Platinum version is an obvious reference to the character Kitty White appears in Hello Kitty the franchise.
the bronze, silver and gold variants have the collar tag match their star, and the platinum has a paw print tag to match the theme.
Gallery
Community content is available under
CC-BY-SA
unless otherwise noted.