Nebulon is a breedable Galactic-Mythic mutant.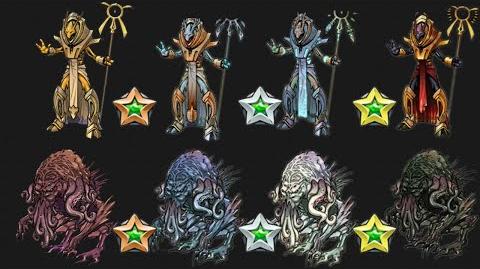 Appearance
Nebulon is a slender yellow alien wearing royal egyptian regalia. It holds a staff with a star symbol on the top with a floating shard in the middle.
Stats
Attack: Low
Life: Average
Speed: Fast
Attacks

Phaser Strike

Sacred Palm
Biography
Some say man came from stars, others that an ancient race blended us as we do now to create Gene Arena contestants. Nebulon is created from the code of the creatures that created man; from the secret labs under the great pyramid he strides forth to reclaim his birthright. Total domination!
Trivia
The appearance may have been drawn from aliens in the Movie Stargate (1994)
Nebulon also looks similar to Kadabra from Pokemon.
The color of it's armor corresponds with the color of the star that was used in it's crossbreeding.
The Silver version has a lot of differenes to the orignal, bronze and gold versions. It is the only version to have a crown, four eyes, glowing armor, and a different symbol on it's staff.
The second attack "Sacred Palm" was renamed from "Cosmic Smite" after the unspecified dates.
Gallery