Phoenix is a Heroic Mythic-Zoomorph mutant can only be bought in the Shop for $5 USD and recently bought for 1,500

for Silver Version.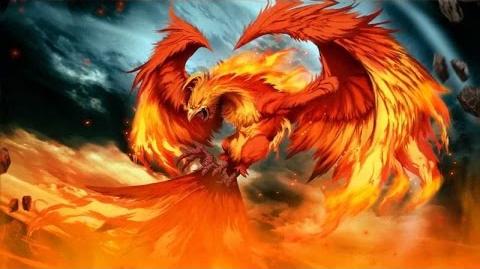 Appearance
Looks like the legendary Greek creature, the Phoenix, when in its Gold and Platinum versions.
From Regular Phoenix to Platinum Phoenix it follows the same growth cycle as a normal bird, with Gold and Platinum being almost the same, save for a few small changes (Platinum has 7 tails, Gold has 3. Platinum has long antennae-like feathers on its head while Gold doesn't. Platinum glows with fire while none of the other forms do).
Stats
Attack: Very Low [1]
Life: Average
Speed: Very Slow
---
↑

Due to the fact that its pre-upgraded attacks has one digit point as shown as the below values in Attacks section.
Attacks

Heart of Flames

Burning punch
Biography
Do you know the legend of the Phoenix which rise from its ashes? That species of Phoenix gains more and more power as far as it gets closer to its final ignition.
Trivia
This is the first mutant to have its evolution line shown in different versions.
This is the only mutant so far to have its attack point from one digit to three digits.
This is the only mutant to start with both attacks, Mythic and Zoomorph.
Its second attack, Burning Punch, is different in its basic and Bronze versions (egg smash) than it is from Silver onwards (Dive bomb).
It is the only mutant not to upgrade any attacks at level 10, but it upgrades both at level 15.
Possible references
As the Appearance section mentioned, it obviously based on the legendary Greek creature Phoenix.
Its elite versions resemble a regular bird's growth cycle (Small egg, egg with the head popping out, small bird, grown Phoenix, and lastly a burning Phoenix).
Gallery