Project X27 is a Legendary Saber-Cyber mutant. It was available in the Shop in its Gold version for 2,500

and basic version for 7,000,000
. It can also be found in the Super Mutants Slots.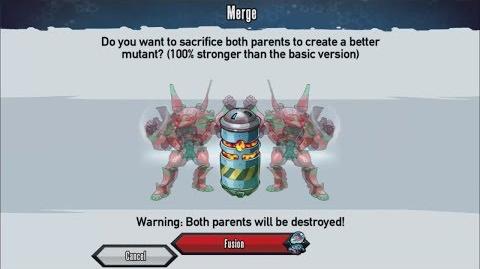 Appearance
Appears to be a a robot suit wielding a rifle blaster and piloted and controlled by a female pilot.
Stats
Attack: Very Low
Life: Average
Speed: Faster Than Light
Attacks

Tactical Cover

Close Combat
Biography
Project X27 stretches the limits of Cyber-Biology. By completely interfacing a soldier with his combat exoskeleton, the subject can reach a speed never imagined before; the downside is once the interface is complete, man and machine can never separate. Psy-Captains will have to weigh the ethical problems against victory in the arena.
Trivia
Originally, this mutant's name was Exoskeleton before unspecified date.
This mutant was first seen in Jordan Torak's youtube video, but was later officially "leaked" on Kobojo's official Instagram page.
Possible references
This mutant may have been inspired by the robots in the video game Metal Warriors for the Super Nintendo console.
Gallery