Psycho Chainsawer is a Legendary Necro-Saber mutant. It was a bonus mutant with the purchase of select gold packages for a limited time.
Appearance
Appears to be a deranged pale hunchback man with a ripped shirt, holding a shotgun over his shoulder in one side and his other arm seems to have completely mutated and fused with a massive chainsaw.
Stats
Attack: High
Life: Resistant
Speed: Intermediate
Attacks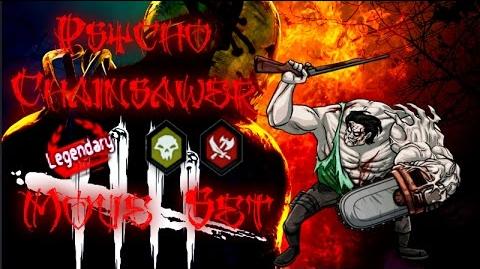 Nice to Meat Ya

Hasta la Vista
Biography
Psycho and serial killer in his lifetime, after his death he couldn't give up his raving madness. He stays on his feet despite his flesh rotting and continues to look for victims to carve.
Trivia
He is based off of the protagonist Ash Williams from the American horror film The Evil Dead , most noticably for his chainsaw mounted righ hand.
His entry and design from Silver onwards could be a reference to the character Leatherface, the main antagonist from The Texas Chainsaw Massacre horror-film series.
His second attack is derived from a world-famous catchphrase "Hasta la vista, baby", used by The Terminator / T-800 (potrayed by Arnold Schwarzenegger) in Terminator 2: Judgment Day
Gallery