Puppetron is a Legendary Mythic-Galactic mutant which can only be obtained through the Prestige Pack for $99.99 USD and was sold in the Shop for 2,100

in its Gold version.
Appearance
Edit
Puppetron is a floating humanoid droid with a smaller clone resembling a marrionette. Puppetron has four yellow eyes and is wears a helmet.
Attack: High
Life: Tank
Speed: Intermediate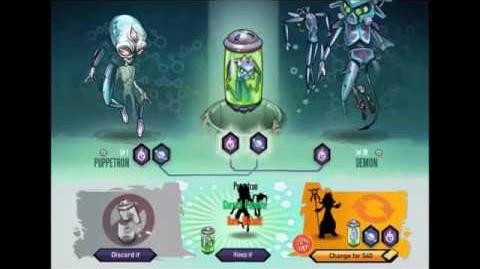 Alter Ego [1]

Clones' Attack [2]
---
↑

Puppetron holds its clone, which then mimics a voodoo doll. The clone is slashed by red cuts while the same thing happens to the enemy.

↑

Puppetron summons four more clones and sends them all to "kamikaze" into the enemy, causing an explosion.
Biography
Edit
You cannot say if he is alone or if they are two. A puppeteer maybe? Impossible to say, he makes us completely mad!
He is both a nod to Laughing Octopus and Screaming Mantis, from the Beauty and the Beast Units featured in Metal Gear Solid 4: Guns of the Patriots.
Just like Psycho Mantis and Screaming Mantis, Puppetron appears to be a psychic.
Instead of the regular 20% damage reduction to enemy attacks upon hitting with the curse ability, Puppetron has an 18% damage reduction instead. To compliment this, he has a slight increase in his HP pool.
Even if it was a robotic mutant, strangely it doesn't have any Cyber gene.