The Satyr Shaman is a PvP/PvE exclusive Zoomorph-Mythic mutant. It is also obtainable through Super Mutants Slots.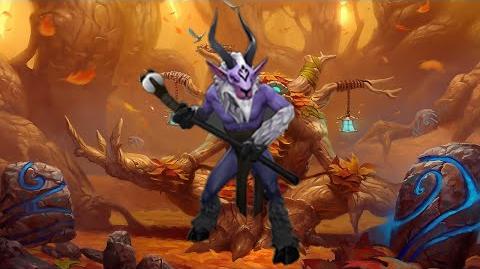 Appearance
Satyr Shaman, like his name implied, is a satyr wearing a shaman robe and wielding a wooden staff with a curve at the top. There's a lantern holding purple energy hanging by the staff and rock shards floating above it.
Stats
Attack: Low
Life: Average
Speed: Fast
Attacks

Runic Strike

Buck
​Mutopedia Entry
A calm and focused spiritualist. Satyr Shaman has spent so long wandering the galaxy that he no long considers anywhere home. With the skills he has learnt on his travel he believes the Mutants Arena poses a unique opportunity for him to test himself to the limits of his ability.
Trivia
Based on the Satyr from Greek myths and the faun from Roman myths.
It looks like Fallen Shaman from the video game Diablo II.
Gallery