Techno Taoïst is a breedable Mythic-Cyber mutant. The 'easiest' way to get some is to Cross-breed a Demon and a Robot.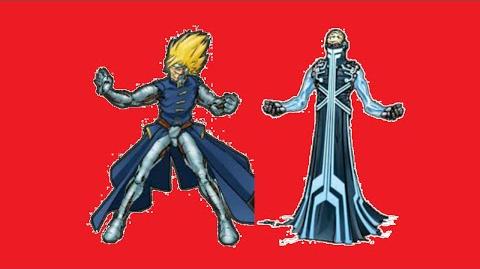 Appearance
Techno Taoist is a cybernetic man with yellow spiky hair. His entire body was covered in metallic armor except for his face wearing a visor.
Stats
Attack: Very High
Life: Resistant
Speed: Slow
Attacks

Khi Fury

Cabled Reflexes
---
↑

Pummels his target with a furious barrage of energy punches

↑

Charges up and unleashes a powerfully deadly energy beam on the target
Biography
From the Shaolin industrial zone, honor and technology collide in the cyber-samurai. Abandoning traditional weapons he can whip a crowd into a frenzy as he pull apart his opponents with lightning fast strikes of pure power.
Trivia
The hairstyle and color robe is the same as Super Gogeta from Dragon Ball franchise, and the Bronze version has the clothes and hair with the color of Son Goku.
His clothes form resembles to Neo's clothes.
His attack +Khi Fury looks like popular attack of Son Goku "Kamehameha".
The Reactor version looks similar to Bruce Lee because of his clothing, but it can be also referencing a well known martial artist super hero from Marvel Universe: Iron Fist (both use Ki energy in their respective attacks, both are martial artists, and both wear similar colors in their outfits)
The Platinum version looks like mix between Son Goku's Kaioken mode and Son Goku's super saiyan God mode.
His gold version may be a referance to Kaneki Ken from : Tokyo Ghoul famous anime.
Gallery