The Devourer is a Secret Recipe Galactic-Necro mutant, that is only available by crossbreeding specific mutants together.
Appearance
Looks like a spaceman infected and corrupted by an alien virus. Its head was replaced with a glass helmet which contains a brain and its torso has become a gigantic gaping mouth with sharp teeth.
Combinations
The specific parent combinations for The Devourer are: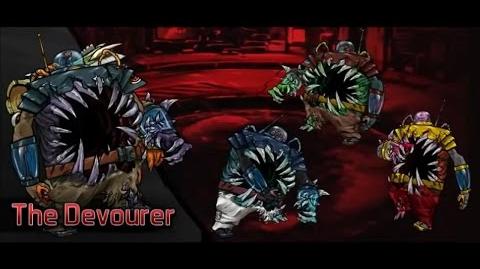 Stats
Attack: Destructive
Life: Resistant
Speed: Very Slow
Attacks

Psycho-Fist

Stomach Pains
Biography
Sometimes experiments go wrong, sometimes experiments go VERY wrong. The Devourer is the result of one such experiment, its scientifically impossible for this mutant to have survived and be strong enough to compete in the arena, but no one seems to have told him!
Trivia
The Bronze version brain and color scheme resembles that of a Metroid.
The Gold version brain resembles Kraang from Teenage Mutant Ninja Turtles.
This mutant also has a slight resemblance to Hector con Carne from The Grim Adventures of Billy and Mandy.
Gallery
Larva